---
Yussuf Mwanza BA(Hons) MRTPI
Managing Director
Yussuf has drawn on his experience with the planning departments of the London Boroughs of Brent and subsequently Hounslow to take the step into private practice. He founded MZA in 1997 and has never looked back. His planning skills, tenacity and integrity of his work are widely admired. His planning work for Reigate and Banstead Borough Council, London Borough of Camden, London Borough of Enfield, London Borough of Redbridge and Elmbridge Borough Council especially at appeal hearings and Public Inquiries defending the Council's decisions, was highly praised. Yussuf has gone onto work on Major projects including Channel Tunnel Rail Link, West London Tram Project and Reading Station Redevelopment. Yussuf has also worked as a consultant Inspector for the Planning Inspectorate handling a wide range of appeal cases. Yussuf has been a member of the Royal Town Planning Institute since 1994.
If you could have one superpower, what would it be?
Without a doubt Time Travel. Imagine being able to traverse continents in a fraction of the time it normally takes.

What are two things still left on your bucket list?
Get fit and stay fit, go to the gym more often – This is a work in progress. My excuse is that my wife is an amazing chef…
Go Scuba diving

What is your guilty pleasure?
Watching the Alien Movies. The first 2 movies were the best.

What was your nickname growing up?
Megastar – My school friends thought that my hairstyle at the time resembled that of the King of Pop!!

What is your favourite place in the world?
After my bed which I don't see enough it would have to be the Volta Lake, Akosmobo, Ghana with its breathtaking views
---
Monica Mehmi
Practice Manager
As the Practice Manager at MZA Planning, Monica ensures that the office is running smoothly and clients needs are seen to efficiently and effectively. Monica graduated with a BA (Hons) in Business Management – Marketing from the University of Westminster and has had a lot of previous roles that involved working with clients, bringing forward her communication and decision making skills. She also enjoys assisting the Planners in their roles.  Monica enjoys travelling and socialising with her friends and family.
If you could have one superpower, what would it be?
Teleportation. Being able to travel anywhere at any time would be amazing!

What are two things still left on your bucket list?
Learn to drive a motorcycle
Be fluent in another language

What is your guilty pleasure?
Re-watching some of my favourite tv shows!

What was your nickname growing up?
Mon or Monz …

What is your favourite place in the world?
I really couldn't pick just one.
Aysegul Olcar-Chamberlin
Senior Town Planning Consultant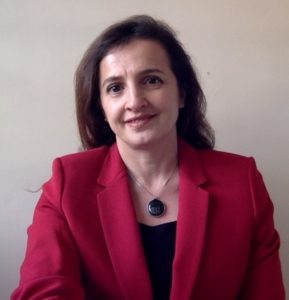 Aysegul has extensive experience in dealing with a variety of minor and major development proposals over 10 years in London boroughs (Ealing and Camden) and private sector companies. She has an MSc in Town Planning from University College London and an MBA from Durham University. She started her professional career as a landscape architect and later moved into urban design and town planning. She has worked on high profiled development proposals in Euston, Camden Market and Bloomsbury and developed a deep interest in the historic built environment and town centres. She has also worked briefly as a change manager in the Corporate Services section of British Embassy in Amman. Her ethics are integrity, diversity and collaboration. She has been a chartered member of the RTPI since 2007.
If you could have one superpower, what would it be?
I would love to have telekinetic or telepathic powers

What are two things still left on your bucket list?
Setting up my hobby studio for fashion design and tailoring and learning how to ski

What is your guilty pleasure?
Star Wars movies and chocolate cake

What was your nickname growing up?
I did not have one

What is your favourite place in the world?
Bosphorus and the Giza Pyramids
Gabrielle Mosco
Admin and Marketing Assistant
Gabrielle is an Admin & Marketing Assistant at MZA Planning. She has developed strong skills in visual representation, marketing and administration from her previous roles. She graduated with a BA (Hons) in Architecture from the University of Portsmouth, and has an interest to pursue a career with the planning and built environment industry. Outside of work Gabrielle enjoys visiting art galleries, cooking and playing badminton.
If you could have one superpower, what would it be?

To time-travel, I would love to go back to the 80s and 90s!

What are two things still left on your bucket list?

Explore Japan and learn how to make and design furniture

What is your guilty pleasure?
Sweet & salted popcorn

What was your nickname growing up?
Gab or Gabs!

What is your favourite place in the world?
It's difficult to choose one but Pisa in Italy is on my top list! The architecture and food is incredible.
---
Jeff Sadler
Planning Consultant
Jeff's wide experience in planning is a dynamic force in dealing with the fundamentals and the finest detail of planning issues today. He has worked in a range of capacities with several local planning authorities, including Recar & East Cleveland BC as a senior planning officer and has held posts as a consultant town planner involved with development control with Reigate & Banstead BC and Royal Tunbridge Wells BC and as a conservation officer at Epsom & Ewell BC. His 20 years experience in the construction industry covers planning, conservation, building design, project management, surveying, listed & historic buildings.
---
Bhoseok Nam BA(Hons) MA MRTPI
Planning Consultant
Bho has worked on a wide range of planning applications and appeals for householders and businesses. Bho graduated with a first class honours degree and a Master's degree in Urban and Regional Planning from the University of Westminster. He is a Chartered Member of the Royal Town Planning Institute.
---
Chris Veasey BSc DipTransP CMILT MIHT
Highway Consultant / Transport and Traffic Consultancy
Chris had extensive experience in all aspects of transport and traffic engineering and planning work with the London Boroughs of Hammersmith & Fulham and Haringey, latterly as Transport Planning Team Leader, and in consultancy before founding Transport and Traffic Consultancy in 1994. His work in project managing the development of the Red Routes Local Plan for Southwark from start to finish straddled that event, and was highly praised by the client, Southwark Council. Since then he has been responsible for many varied tasks for both the public and private sectors, from feasibility and design work to lengthy highway corridor accident reduction and traffic improvement studies to the transport, access and parking aspects of development schemes of all sizes, including appearing as expert witness at numerous planning appeals, his considerable success rate being greatly appreciated by clients. Chris is also fully certificated to run bus, coach and road haulage operations and thereby has a greater knowledge and understanding of such operations than is usual in his core professional field.
---
Antonio Di Pierro
Architectural Consultant
---
We also have a network of consultants that form part of our core team including Tree consultants, Code Assessors, Daylight/ Sunlight Consultants, Noise Consultants, Surveyors…